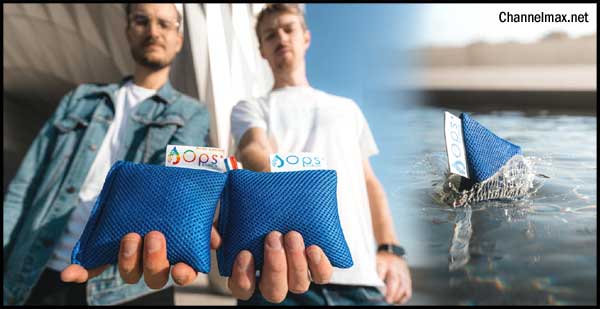 In a significant move highlighting its commitment to supporting innovative startups, Amazon has awarded France-based Ops Clean the prestigious title of 2023 European Startup of the Year. This accolade is part of Amazon Launchpad's annual Innovation Awards, a program designed to recognize and boost emerging businesses with groundbreaking ideas.


Amazon's Celebration of Innovation:
Amazon has curated a unique collection on its Amazon Launchpad storefront to mark the Innovation Awards. This collection showcases a range of inventive products from Ops Clean, the overall winner based in France, alongside other notable European winners and finalists. This initiative celebrates the spirit of innovation and provides these startups with a platform to reach a broader audience.


Ops Clean's Eco-Friendly Solution:
Ops Clean has made a remarkable impact with its eco-friendly laundry detergent sachet, which stands out for its efficiency in cleaning all types of laundry while significantly reducing CO

2

emissions. The company's commitment to sustainability is evident in its product design – the detergent is made in France using a single ingredient and is packaged in recyclable and compostable materials. Recognizing this innovative approach, Amazon has awarded Ops Clean a €100,000 grant, featured placement on Amazon Launchpad, and a year of complimentary account management and support for selling on Amazon.

Also Read: Why Do You Need An Automated Repricer On Amazon?


Xavier Flamand, VP of Amazon Launchpad, praised Ops Clean, stating, "Ops Clean is a well-deserved winner of our Startup of the Year 2023 – a zero waste detergent sachet that reduces water usage by around 30% per wash, translating to an average annual saving of 3,000 litres."

Jean-Baptiste Duranton, co-founder of Ops Clean, expressed his gratitude and excitement: "Winning Amazon Launchpad's 'European Startup of the Year' will transform and shape the future of our business as we look to scale up and offer more customers across Europe a sustainable washing alternative."


Additional Winners of Amazon Launchpad Innovation Awards
Amazon has also recognized five additional winners in its Launchpad Innovation Awards in a remarkable showcase of innovation and entrepreneurship. These winners, chosen from hundreds of applications across 29 European countries, bring unique and transformative products to the market.


Diverse Innovations Across Europe:
Talking Hands (Germany): Aiming to foster an inclusive society, Talking Hands focuses on aiding communication for children with Down syndrome. Their portfolio includes various sign flipbooks, the tilo finger alphabet puzzle, and the Talking Hands app designed to bridge communication gaps.


Bricknic (Netherlands): This startup has reimagined cooking as a communal activity. Inspired by traditional clay pot cooking, Bricknic has developed cooking tools like the Bricknic Cooking Brick and the BBQ Planet, made from natural clay, to enhance the social experience of cooking.


Infinite Athletic (Spain): A pioneer in sustainable fashion, Infinite Athletic produces technical clothing for tennis using recycled materials. Their commitment to circularity ensures that each garment is designed with its end life in mind, promoting a sustainable fashion cycle.


Firemill (Sweden): Revolutionizing fire safety, Firemill has created a tool that turns an ordinary carbon dioxide cylinder into a fire extinguisher. This innovation is the brainchild of some of Sweden's top industrial designers.


Milky Plant (UK): Transforming the plant-based milk industry, Milky Plant has introduced a machine that produces fresh, healthy plant-based milk at home. This innovation reduces the need for milk cartons and plastic waste, offering a sustainable alternative to traditional milk consumption.


Judging Panel and Criteria:
The judging panel, comprising industry experts like Andy Fishburn (Virgin StartUp), John Vincent (LEON), Simona Barbieri (Hubdot), and Alessandro Giudici (Bayes Business School), evaluated these products based on aesthetics, design, uniqueness, differentiation, and sustainability. Andy Fishburn praised the innovative nature of these brands, noting their potential to bring significant changes to the market.
Since its inception in 2015, Amazon Launchpad has supported emerging brands. Working with over 200 venture capital firms, startup accelerators, and crowdfunding platforms, it has helped launch products that are changing industries. Available in Europe, the U.S., Canada, Mexico, India, and Australia, Amazon Launchpad is a testament to Amazon's commitment to nurturing innovation.

The recognition of these startups by Amazon Launchpad underscores the vibrant and diverse nature of innovation across Europe. This serves as a beacon of inspiration for Amazon Sellers, showing that creative solutions and sustainability can lead to success on a global platform like Amazon. These awards not only celebrate the achievements of these startups but also signal Amazon's dedication to fostering an environment where innovative ideas can thrive.


For more information on this announcement, visit the official Amazon announcement here.


Disclaimer:
Amazon is the registered trademark of the e-commerce brand.


About ChannelMAX.NET :
ChannnelMAX.NET

has been helping sellers on various eCommerce platforms since 2005. Some of the eCommerce platforms supported by ChannelMAX.NET are Amazon, Walmart, eBay and Shopify. ChannelMAX.NET has been an Amazon technology partner since 2007. Some of its key offerings include its pricing management tool, the

ChannelMAX Repricer, FBA Refunds Management offering,

RefundMAX, and ChannelMAX Remote Full-Time eCom Assistants to help its seller partners run their business. The ChannelMAX Repricer is available at the Amazon Appstore.