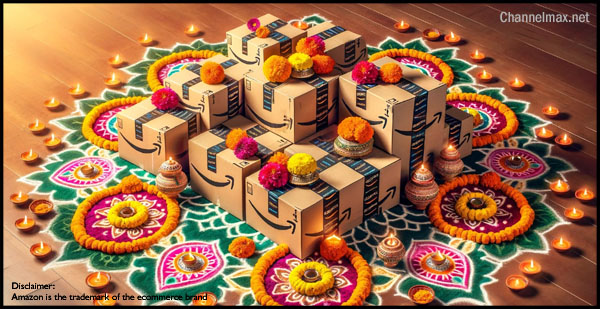 By Staff Writer


Amazon's Great Indian Festival (GIF) 2023, which commenced on October 8, has set new benchmarks in the Indian e-commerce landscape. The month-long event celebrated as the biggest shopping extravaganza in Amazon's history in India, witnessed unprecedented customer engagement and seller success.


Record-breaking customer Visits and New Shoppers
According to an official announcement, the festival saw a staggering 110 crore customer visits, marking it as the most significant event ever in terms of customer engagement. Notably, over 40 lakh new customers chose Amazon India to shop, accessing over 5,000 new product launches from top brands. This surge in new customers, especially from tier 2 cities and beyond, underscores the expanding e-commerce reach in India.

Also Read: Amazon's BFCM Sale to Feature Over 50,000 New Products from Indian Exporters

Enhanced Delivery Network and Prime Member Satisfaction
Amazon India's logistical prowess was displayed, delivering happiness to over 19,000 pin-codes nationwide. Remarkably, 80% of these new customers hailed from tier 2 and below towns, including Jalandhar, Kolhapur, Midnapore, Visakhapatnam, and others. In a testament to Amazon's efficient delivery system, nearly half of all orders from Prime members were fulfilled within 48 hours.

A Boon for Sellers and Brand Partners
The festival was a win for customers, sellers, and brand partners: exciting bank discounts and unique rewards led to customers saving over ₹600 crore. Over 38,000 sellers experienced their highest-ever single-day sales, highlighting the event's positive impact on small and medium businesses, startups, artisans, and women entrepreneurs.

A Word from Amazon's Leadership
Manish Tiwary, Country Manager, India Consumer Business at Amazon, expressed gratitude towards customers, brand and bank partners, sellers, and delivery associates for making this event a historic success. "A heartfelt thank you for making this the biggest celebration ever in the history of our operations in India," he stated.

Also Read: Why Do You Need An Automated Repricer On Amazon?

The Great Indian Festival 2023 has set a new precedent for online shopping festivals in India. The record number of new shoppers and the widespread geographical reach indicate a growing e-commerce market, especially in smaller towns and cities. This trend presents a significant opportunity for sellers on Amazon India to expand their customer base and grow their businesses. The success of this event also highlights the importance of participating in such festivals for increased visibility and sales.

Disclaimer:
Amazon is the registered trademark of the e-commerce brand.

About ChannelMAX.NET :
ChannnelMAX.NET

has been helping sellers on various eCommerce platforms since 2005. Some of the eCommerce platforms supported by ChannelMAX.NET are Amazon, Walmart, eBay and Shopify. ChannelMAX.NET has been an Amazon technology partner since 2007. Some of its key offerings include its pricing management tool, the

ChannelMAX Repricer, FBA Refunds Management offering,

RefundMAX, and ChannelMAX Remote Full-Time eCom Assistants to help its seller partners run their business. The ChannelMAX Repricer is available at the Amazon Appstore.