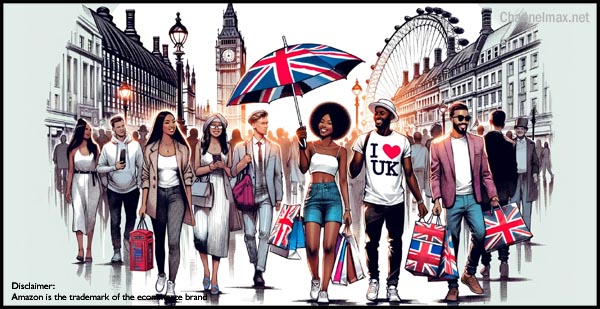 In a significant move coinciding with the UK's International Trade Week, Amazon has stepped up its approach to support British businesses. The e-commerce giant has proudly announced its involvement in the celebrations, highlighting the success of thousands of UK sellers who have harnessed Amazon's platform to reach customers across the globe.


More than 50,000 small and medium-sized enterprises (SMEs) in the UK have tapped into Amazon's extensive customer base, leveraging the opportunity to sell beyond their shores. This figure represents over half of the 100,000 UK-based businesses that operate on Amazon, a testament to the platform's role in fostering international trade.

Also Read: How to Fix Amazon's Potential High Pricing error?

In 2022, Amazon merchants achieved £3.3 billion in sales abroad, with e-commerce acting as a significant catalyst for export growth. This platform enables businesses to tentatively explore various international markets and understand how to expand their sales across borders.


In a collaborative effort with the UK Government, Amazon has launched the 'Great British Brands' store on Amazon.co.uk. This dedicated space is designed to showcase the diversity and quality of UK businesses and artisans alongside well-established British brands. The initiative aims to spotlight British products, known worldwide for their provenance, quality, and innovation, and make them easily accessible to an international audience.


For Amazon sellers, the immediate effect of this announcement is a potential increase in visibility and access to international markets. The Great British Brands store offers a unique opportunity for these sellers to feature their products on a global stage, potentially leading to an uptick in sales and brand recognition.


The long-term implications could be even more substantial. By establishing a presence in the global market through Amazon, UK sellers could see sustainable growth in their customer base and revenue. This move also positions them to take advantage of Amazon's logistics and distribution networks, easing the complexity of international shipping and customs processes.


Reflecting on the launch, Lord Offord, Minister for Exports, lauded the initiative: "From small artisan businesses to household brands, UK products are renowned globally for their provenance, quality, and innovation. I am delighted that Amazon is launching its Great British Brands campaign and a dedicated storefront for shoppers worldwide to access great British products as we celebrate the best of UK business success during International Trade Week."


The launch of the Great British Brands store by Amazon, in partnership with the UK Government, marks a pivotal moment for UK SMEs aiming to broaden their horizons. It's a strategic move that celebrates the excellence of British products and equips local businesses with the tools to thrive in a competitive international marketplace. This could be the beginning of an exciting journey towards global recognition and success for Amazon sellers.

For further details on the announcement, visit the official Amazon announcement here.

Also Read: Why Do You Need An Automated Repricer On Amazon?

Disclaimer:
Amazon is the registered trademark of the e-commerce brand.

About ChannelMAX.NET :
ChannnelMAX.NET

has been helping sellers on various eCommerce platforms since 2005. Some of the eCommerce platforms supported by ChannelMAX.NET are Amazon, Walmart, eBay and Shopify. ChannelMAX.NET has been an Amazon technology partner since 2007. Some of its key offerings include its pricing management tool, the

ChannelMAX Repricer, FBA Refunds Management offering,

RefundMAX, and ChannelMAX Remote Full-Time eCom Assistants to help its seller partners run their business. The ChannelMAX Repricer is available at the Amazon Appstore.