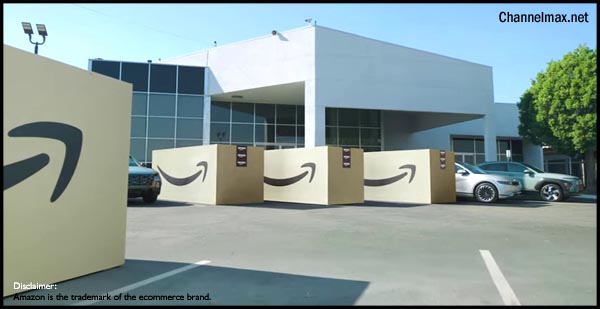 In a landmark move that could reshape the automotive and e-commerce landscapes, Amazon and Hyundai Motor Company have announced a broad, strategic partnership. This collaboration, set to commence in 2024, will integrate Amazon's digital prowess with Hyundai's automotive innovation, marking a significant shift in how consumers purchase vehicles and interact with car technology.


Revolutionizing Car Sales on Amazon
Starting in 2024, Amazon will open its U.S. store to auto dealers, allowing the sale of vehicles on its platform for the first time. Hyundai emerged as the inaugural brand in this venture, offering customers a novel way to purchase cars. This digital shopping experience will enable customers to search for Hyundai vehicles on Amazon based on various preferences, including model, trim, color, and features. The process culminates in an online checkout with chosen payment and financing options, all within the familiar Amazon interface.

Also Read: Common Reasons For Amazon Seller Account Suspension or Deactivation


Amazon CEO Andy Jassy expressed enthusiasm about the partnership, stating, "Hyundai is a very innovative company that shares Amazon's passion for trying to make customers' lives better and easier every day. Our broad, strategic partnership should do just that, from changing the ease with which customers can buy vehicles online to making it simple to use Alexa in Hyundai vehicles for entertainment, shopping, smart home adjustments, and calendar checks to enabling Hyundai to transform their customer experiences and business operations by moving to AWS. We look forward to inventing together for many years."


Hyundai's Leap into the Cloud with AWS
In a strategic decision, Hyundai has chosen Amazon Web Services (AWS) as its preferred cloud provider. This move is part of Hyundai's larger digital transformation initiative. Hyundai plans to migrate its current on-premises applications to AWS, focusing on areas like manufacturing, supply chain, security, and disaster recovery. The goal is to optimize production, reduce costs, and bring new connected vehicle features to drivers globally.


Alexa Integration in Hyundai Vehicles
A key component of this partnership is the integration of Alexa into Hyundai's next-generation vehicles, starting in 2025. This integration will offer drivers a hands-free Alexa experience similar to what they have at home. Hyundai drivers can use Alexa for various functions, including playing music, setting reminders, checking calendars, and controlling smart home devices.

Also Read: Amazon Expands Social Commerce Reach with New Snapchat Integration


José Muñoz, global chief operating officer for Hyundai and president and CEO of Hyundai and Genesis Motor North America, highlighted the transformative nature of this journey, saying, "This is a transformational journey we are on together, and we look forward to a very productive long-term relationship with Amazon."
Implications and Future Prospects
This partnership between Amazon and Hyundai represents a significant step in converging the e-commerce and automotive industries. It offers a new, convenient way for customers to purchase vehicles and sets a precedent for integrating advanced cloud and AI technologies in the automotive sector. As these two industry giants join forces, the potential for innovation and customer-centric solutions seems boundless, signaling a new era in how we interact with vehicles and digital technology.


Disclaimer:
Amazon is the registered trademark of the e-commerce brand.
Hyundai is the registered trademark of the automobile company.


About ChannelMAX.NET :
ChannnelMAX.NET

has been helping sellers on various eCommerce platforms since 2005. Some of the eCommerce platforms supported by ChannelMAX.NET are Amazon, Walmart, eBay and Shopify. ChannelMAX.NET has been an Amazon technology partner since 2007. Some of its key offerings include its pricing management tool, the

ChannelMAX Repricer, FBA Refunds Management offering,

RefundMAX, and ChannelMAX Remote Full-Time eCom Assistants to help its seller partners run their business. The ChannelMAX Repricer is available at the Amazon Appstore.