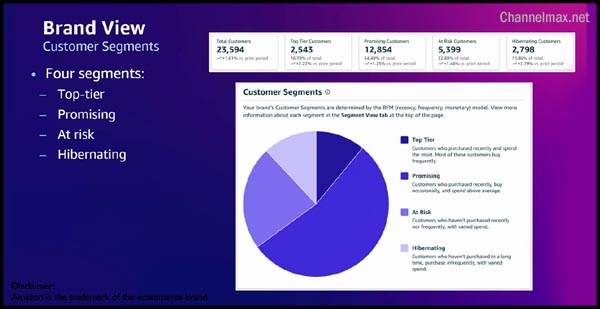 In a significant move that's set to revolutionize the e-commerce landscape, Amazon has rolled out its latest feature for brands on its platform: the Customer Loyalty Analytics dashboard. This innovative tool is designed to empower sellers with deep insights into customer behaviour, enabling them to segment and re-engage shoppers with unprecedented precision.


The Customer Loyalty Analytics dashboard is more than just a data repository; it's a strategic command centre that offers actionable recommendations and direct links to tools like Brand Tailored Audiences. With these resources at their disposal, sellers can now craft targeted promotions, coupons, and email campaigns that speak directly to the heart of each customer segment, thereby amplifying the overall customer lifetime value.

Also Read: How to Fix Amazon's Potential High Pricing error?


Here's what the dashboard promises to deliver:


1. Identification of High-Value Customers:
Sellers can pinpoint customers who have previously purchased from them and are most likely to engage with new promotions.
2. Strategic Customization: The dashboard enables sellers to tailor the value and frequency of purchase incentives, discounts, and marketing content to suit various customer segments.


3. Timely Engagement: By focusing on customers who have made a purchase within the last year, sellers can market more efficiently and effectively.


4. Optimized Marketing Spend: Visibility into customers' lifetime value helps sellers allocate their marketing and ad budgets more judiciously.


5. Reduced Acquisition Costs: The tool aids in launching personalized promotions for customers who have shown interest but haven't made a purchase in the past year.


Amazon's announcement has been met with a wave of excitement across the seller community, with many anticipating a new era of customer relationship management—one that's driven by insight, efficiency, and a deep understanding of the value each customer brings to the table.


As sellers dive into the dashboard, the potential for increased sales and customer retention is palpable. The Customer Loyalty Analytics Dashboard Guide provides a comprehensive walkthrough, ensuring sellers can leverage the tool to its full potential.


Amazon's latest innovation is a testament to its commitment to supporting sellers in a competitive marketplace. By harnessing the power of customer loyalty analytics, sellers are not just selling; they're building enduring relationships with their customers.


To access the dashboard and redefine customer engagement, sellers can navigate to the Customer Loyalty Analytics section on the Seller Central platform. With this new analytics power, the future of e-commerce shines brighter than ever for Amazon sellers.

For further details on the announcement, visit the official Amazon announcement here.
To watch detailed video to know more on this click here.

Also Read: Why Do You Need An Automated Repricer On Amazon?

Disclaimer:
Amazon is the registered trademark of the e-commerce brand.

About ChannelMAX.NET :
ChannnelMAX.NET

has been helping sellers on various eCommerce platforms since 2005. Some of the eCommerce platforms supported by ChannelMAX.NET are Amazon, Walmart, eBay and Shopify. ChannelMAX.NET has been an Amazon technology partner since 2007. Some of its key offerings include its pricing management tool, the

ChannelMAX Repricer, FBA Refunds Management offering,

RefundMAX, and ChannelMAX Remote Full-Time eCom Assistants to help its seller partners run their business. The ChannelMAX Repricer is available at the Amazon Appstore.